How can I make best use of Online, Video, Telehealth Physiotherapy?
The covid-19 lockdown has opened our eyes to a new, video connection & collaboration normal. Video physio can be extremely effective and make your life much easier! Getting the help you need for an injury or problem without having to leave your home or office means a huge amount of pressure off your day. Vigeo Physio offers comprehensive physiotherapy care via video. And, if you are in acute pain, it might save you a lot of pain & irritation from not having to drive to-from a clinic on the other side of town!
---
---
So, how do video consultations work and how do you get the most out of them?
What information will my physio need to best help me?
Scans/investigations (make sure relevant ones are at your fingertips or shared with us) - we have live-access to your radiology scans if privately performed but it takes time/release of information in order to gain access to hospital based scans.
Any other relevant information would be handy to have nearby. Just in case.
Prepare your space
Camera-height (shin-ankle, waist and shoulder-head heights) and the ability to quickly move from 1 height to the next during your consultation
Space for you to sit,, stand and lay flat (and have your arms move in all directions)
A wall that is free of obstructions - just in case we need it
Useful Equipment (therapy, exercise) - simple things that you have around home are normally suitable. A chair, towels and pillows, small weights, fitness mat, swiss ball/soccer ball if you have one and anything else that may be relevant for you.
Elevated Surface (ideally firm) - If you struggle getting on and off the floor, be sure to make an elevated surface available
Is Video (Telehealth) physiotherapy effective?
As physiotherapists, we are trained to observe how bodies work (and don't work). The words you use to explain your problem(s) also provide a huge amount of valuable information. Most things we do don't require hands on techniques any way.
For many conditions we have found great ways to impact the deeper tissues including fascia that can have a similar if not better effect than manual therapy. They are in tune with how your body operates normally. Even better, once you learn the technique(s), you won't need to rely on someone performing techniques on you. You will be able to manage things yourself. Which provides you with the ultimate fix - self-therapy.
The better we understand your problem and what is happening in your body, the better our solutions are able to target what you need. The more effective your solution will be.
If you are looking for someone to perform manual therapy directly on your body, Video (Telehealth) physiotherapy alone is not for you. Many chronic problems come from treatment with hands on techniques not targetting the source of a person's problem. We know the ins and outs of manual therapy, if that could complement your therapy, we know who or where to look for the manual therapy you need.
Education, exercises and experience
A reasonable amount of the information you need has been delivered hundreds if not thousands of times before. We just need to make it specific for your situation. Our solutions provide instruction or video to help you.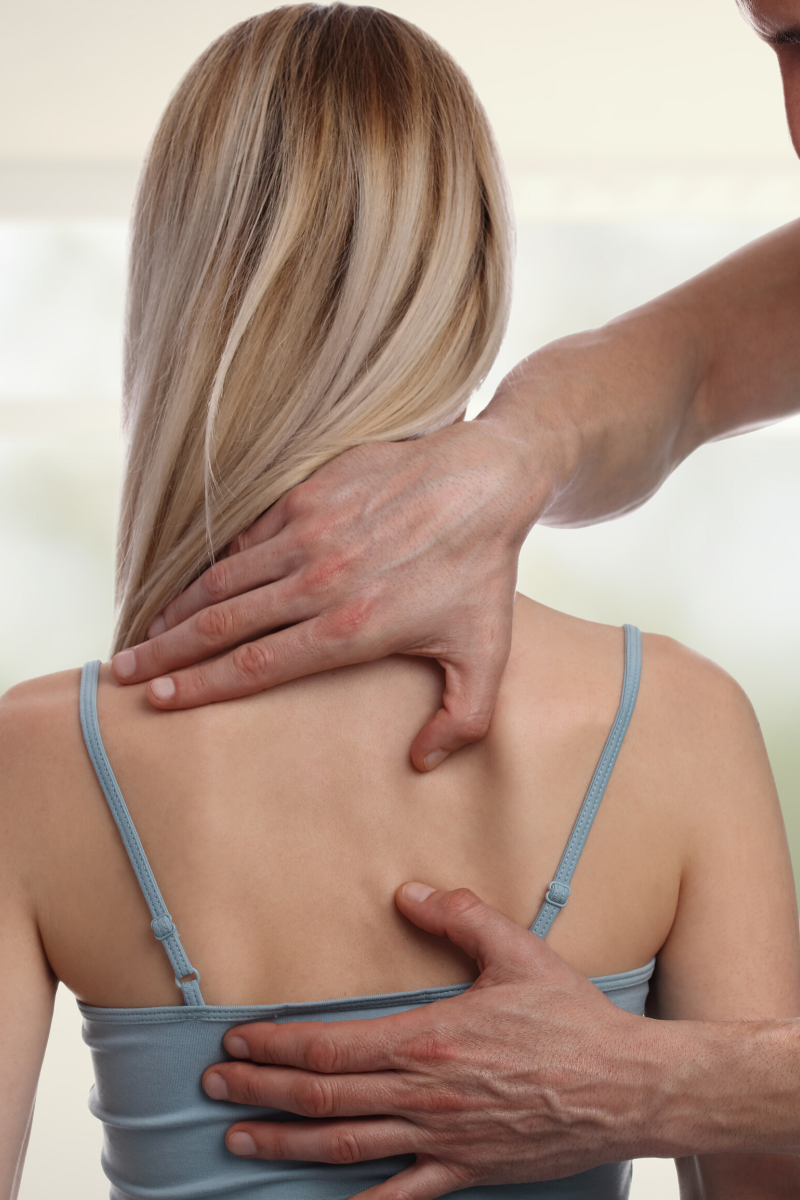 Visibility
Visibility is vital. In order to best understand your body and what is impacting you, we look at your spine alignment, your shoulders and shoulder blades, your neck and your thigh-knee-leg/foot during your consultation. Both in posture/static positions as well as during movement.
Ensure your camera can provide a great view of you so we can see how your body is aligned. Using the wall and using the floor and whilst sitting in a chair.
Clothing
Shorts if necessary and a thin tank top for ladies means we can view the alignment of your body, shoulder(s), neck, and limbs.
Preparation if essential. Ask us if you need more information
Let us know when your book your appointment or pre-consultation if you have a specific situation and need ideas.
Chances are we have a simple solution that can make solving your problem and frustrations easy.