You have a physical health problem and need to find a solution. Discover a revolutionary therapy with lasting results.
💡
Do any of these sound familiar?
You've been suffering from chronic pain or persistent injuries.
You've tried physiotherapy, chiropractors or surgery, without seeing results.
You're frustrated by treatments that only provide short-term relief.
You want to improve your overall physical performance.
Nothing is 'wrong' with your body - but you never feel your best.
Vigeo Therapy is a completely unique approach that delivers lasting results.

We combine highly specialised postural therapy with grounding physiotherapy concepts to provide a total body solution and lasting relief from pain. Postural therapy focuses on the whole body, addressing the root cause of your problem and providing a long-term solution that actually works!

Many customers have tried numerous other health services, stretches and exercises without success before coming to Vigeo.

Get a thorough solution at Vigeo, so you can get back to your best life.
Vigeo Physio
Begin your journey to peak performance

At Vigeo Physio, your results are our priority.

We provide holistic postural therapy and physiotherapy services to help you recover from injury and pain and support your body to perform at its best. Our tailored treatment approach goes beyond common solutions, providing a whole-body solution that addresses the root cause of your problem.
Quick fix or long-term results?

Taking a 'quick fix' approach to physical problems only creates more issues in the long run. A surface-level treatment might provide some temporary relief, but without a thorough solution, it's likely that your pain will return or injuries may recur.

Postural Therapy provides long-term solutions by examining your pain or injury in a whole-body context and identifying the root cause of your problem. We work with you to develop clinically reasoned processes that solve complex and frustrating physical problems, supporting your body on its journey to optimum performance.

Our unique therapy process, Vigeo Therapy, is provided by our experienced physiotherapist, Dominic Brosnahan. Dom is incredibly adept at providing the best solutions for each individual client, including exercise-based rehabilitation and wellbeing, spinal manual therapy, sports rehabilitation and performance improvement, and pre or post-surgical rehab.

Discover how amazing life can be when your body is performing at its best.
The Vigeo difference

We believe that fixing acute pain or a recent injury is just the beginning of your journey to optimum health and performance. When you receive care from Vigeo, we don't just treat your current pain or injury; we develop a tailored programme that focuses on solving the root cause of your problem.

We often see clients visit our clinic with a single complaint (like an ACC injury or isolated pain). After we've examined your current pain or injury, we conduct a thorough assessment of your whole body health to discover the underlying cause. Once we've uncovered the areas to work on, we begin a treatment process to ensure your body operates as well as it possibly can.

It's a thorough, holistic, and incredibly effective approach to long-term wellbeing.

What will you be able to do when you recover your well-functioning body?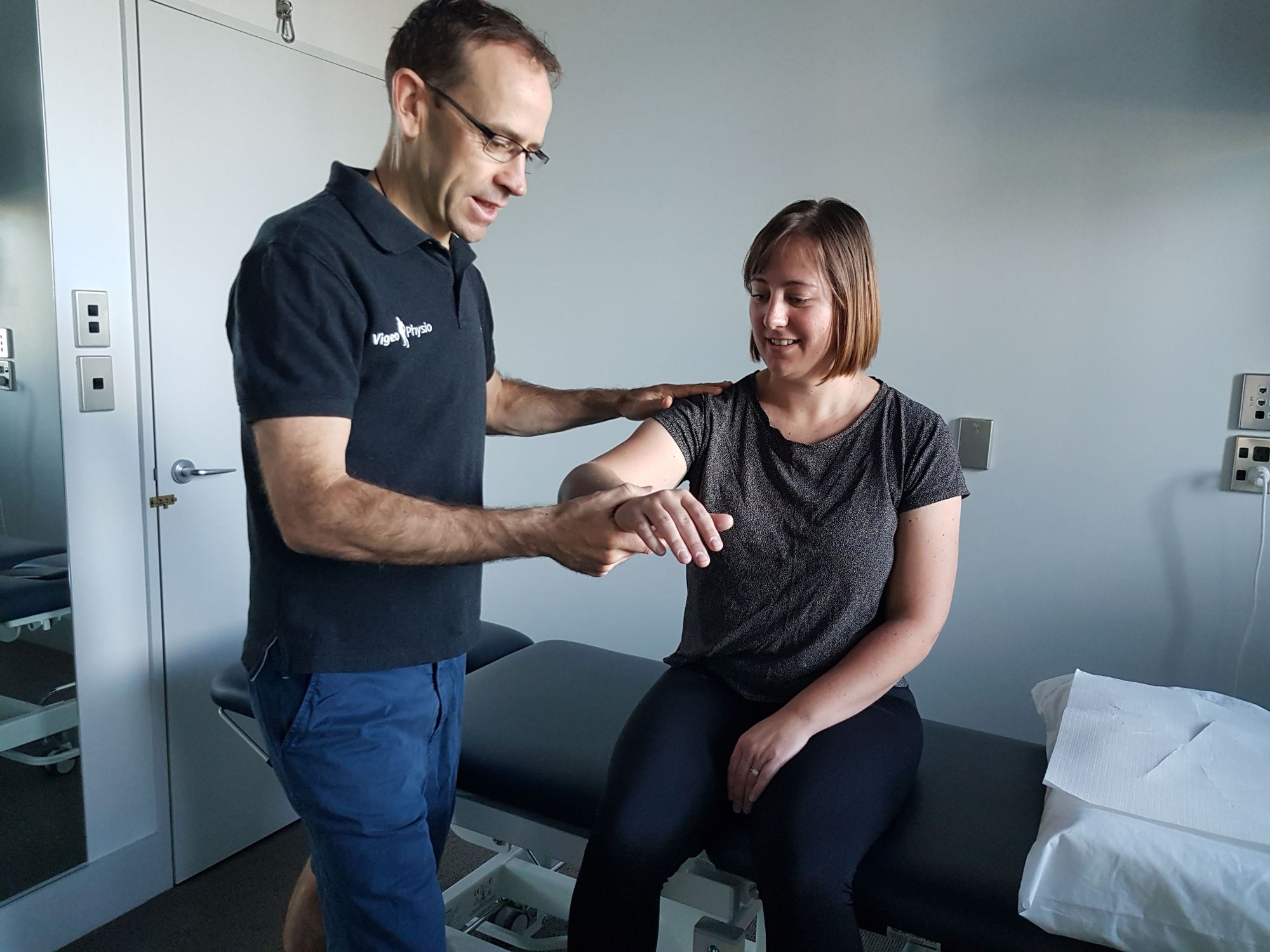 What to expect from Vigeo:

Results that support your total body health.
A long-term approach to your health, not a bandaid or a short-term solution.
Clinical care from a highly regarded therapist with expertise in postural therapy, physiotherapy, and exercise/rehab.
Access to the tools and strategies that make recovery easy, from pain management techniques to our app, loaded with exercises to help you improve your physical condition between sessions.
Thorough assessments, client-first treatment, and dedication to finding the root cause of your problem.
Education about your body and injury/pain in language you can understand.
A real, positive health experience.

We accept ACC Claims and can lodge a new ACC claim for you if you need it. ACC covers you for a specific area of your body related to an accident etc. Private payments are required for everything else. We will help you understand what ACC covers (and doesn't cover).

Your recovery is a process; it takes time, but your body is strong and healthy. With the right guidance, great things can be achieved.

No-one knows physical recovery like Vigeo.
---
We Accept: